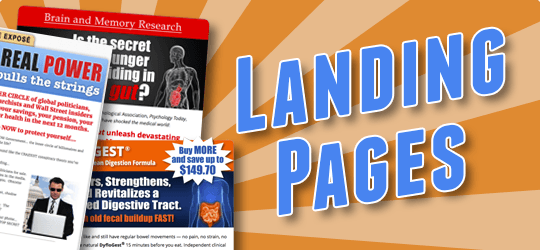 Corporate Video
Landing Pages are what BubTown excels at — it's what we do! If you're in the need of a responsive Landing Page for your marketing campaign, no one can match us in regard to quality and cost!
Landing Pages are a critical component of E-marketing! What is a Landing Page? In the purest sense, it's any page that a visitor "lands" on, typically after clicking on an ad banner or sponsor link. It is distinct from a company's main website in that it has the objective of providing "engaging" information that moves the visitor to a final destination, typically the shopping cart or a registration page. It is also referred to as a "Click Through" page, and can be used as an e-commerce funnel to describe a product, service and/or need in sufficient detail to motivate a visitor to make a purchasing decision.
Don't be fooled by the cheap offerings of some firms! A Landing Page needs to be visually engaging, and has to hook the visitor early on in order to compel them to read through to the Call-to-action. A bland cookie-cutter look, or one that appears sloppy in mobile-view, will cause you to loose sales!
Ask us Today about how BubTown Studios can design you an outstanding responsive Landing Page that delivers the response rates you expect and the recognition you deserve!