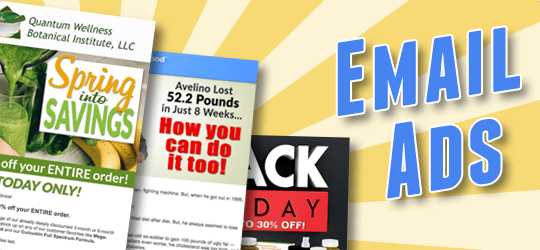 Corporate Video
Email Ad Campaigns are an essential and proven means for promoting products and services and generate direct sales. The problem is that with the amount of emails people receive, they need to be well written, engaging, and visually appealing in order to stand out! In addition, they need to be responsive (mobile-friendly) in order promote ease-of-use and prevent customer frustration!
It's a little-known fact that HTML emails are not designed like HTML web pages, as there is no standardization for viewing HTML mail documents! In fact, one of the most popular mail systems, Microsoft Outlook, is unable to properly read standardized HTML and CSS code! Other popular mail systems like Gmail and Yahoo have strict size requirements!
The majority of emails are opened on mobile devices — so don't fall into the common trap of sending out Emails that aren't viewable on a smart phone! And don't send out emails that look horrible on popular email platforms!
A lot of work needs to be done to make sure that your HTML email looks good on all the popular mail providers. Avoid the headache! What you need is a knowledgeable firm like BubTown! Let us do the hard work for you, and get every email campaign right!
BubTown Studios will work with you to design, develop and test your responsive HTML Email Ads. Your satisfaction is our goal, and we guarantee you'll be pleased with our service!